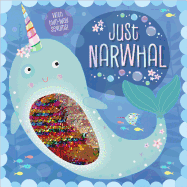 Juvenile Fiction, Paperback
Narwhal doesn't think she has any skills - especially when she compares herself to the mermaids. She's just Narwhal! So when the mermaids need someone to judge their painting contest, Narwhal doesn't think she can do it. But the other creatures don't judge it fairly, and Narwhal soon learns that her talents lie in being honest, fair minded and just.
Sweet, rhyming text and Lara Ede's beautiful illustrations combine to make a delightful picture book that will be enjoyed by adults and children alike.