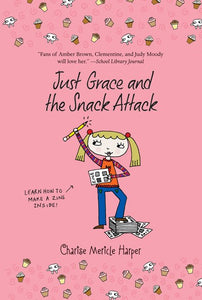 Juvenile Fiction, Paperback
After reading this new book about Just Grace you will know how to . . .
1. turn your favorite potato chips into a tasty chipwich.
2. draw and fold up your very own zine, which is a cool little book made from only one piece of paper.
3. look for and use the special powers of the wish chip.
This book will not help you know how to . . .
1. do fancy hairstyles for your cat.
2. make a flower garden in your room.
3. bake a four- or even five-layer cake.
But this book might make you feel a little bit hungry, and if it does, then you will know you are having a "snack attack" just like Grace!
Move over Judy Moody, Amber Brown and Clementine, there's a new spunky third grader on the block!