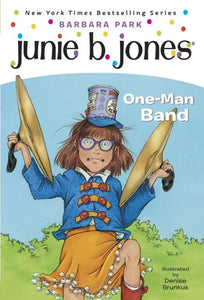 Juvenile Fiction, Paperback
Barbara Park's New York Times bestselling chapter book series, Junie B. Jones, is a classroom favorite and has been keeping kids laughing--and reading--for more than twenty years. Over 60 million copies in print and now with a bright new look for a new generation!
Meet the World's Funniest First Grader--Junie B. Jones! It's time for the first-grade kickball tournament! Only, here's the problem. Junie B. has hurt her big piggy toe and she can't play on the team. So now what? She definitely doesn't want to be a cheerleader. But wait! Maybe she could be in Sheldon's halftime show! Then all eyes would be on her! And she would be the star! Hurray! Hurray! Junie B. . . . in the spotlight. What could possibly go wrong?