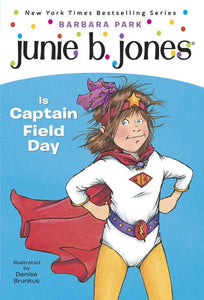 Juvenile Fiction, Paperback
"Hilarious. Barbara Park makes reading fun." --Dav Pilkey, author of Dog Man
Barbara Park's #1 New York Times bestselling chapter book series, Junie B. Jones, has been keeping kids laughing--and reading--for more than twenty-five years. Over 65 million copies sold!
Meet the World's Funniest Kindergartner--Junie B. Jones! Afternoon kindergarten is having a field day, and Junie B. Jones is team captain! Only, here's the problem. Room Eight keeps on winning too many events. And so how will Room Nine ever become the kindergarten champions? As Captain Field Day, will Junie B. find a way to lead her team to victory? Or will it be up to someone else to save the day?

USA Today
"Junie B. is the darling of the young-reader set."