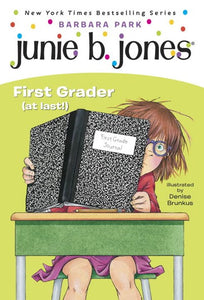 Juvenile Fiction, Paperback
"Hilarious. Barbara Park makes reading fun." --Dav Pilkey, author of Dog Man
Barbara Park's #1 New York Times bestselling chapter book series, Junie B. Jones, has been keeping kids laughing--and reading--for more than twenty-five years. Over 65 million copies sold!
Meet the World's Funniest First Grader--Junie B. Jones! Hurray, hurray for a brand-new school year! Being in first grade means having to get used to a whole new classroom. And a whole new teacher. And a whole new bunch of strange children. But here's the worst thing of all: When Junie B. tries to read words on the chalkboard, she can't seem to see what everyone else is seeing! Is it possible she might actually end up wearing glasses?

USA Today
"Junie B. is the darling of the young-reader set."

Publishers Weekly
"Park convinces beginning readers that Junie B.--and reading--are lots of fun."