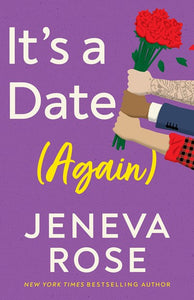 One lovestruck woman. Three handsome boyfriends—and strangers. A unique dating adventure awaits in a hilarious and heartwarming romantic comedy by New York Times bestselling author Jeneva Rose.
A guy told me he loved me tonight.
Peyton Sanders hopes it's not too late to say it back. Done with dead-end relationships and swiping right, she knows who her heart belongs to. But as she races to tell him how she feels, she's hit by a car and wakes up with amnesia. It gets worse. Peyton has no clue who the three men who show up at her hospital bed are except they each claim to be her boyfriend.
They're certainly worth remembering. A rustic-looking contractor—heaven in flannel. A tailored consultant with a smile to die for. And a tattooed chef with a box of homemade chocolates, both delicious. Peyton's friends Maya and Robbie have an idea: date each man again. Recognizing her soulmate should be as easy as one, two, three.
On a wildly romantic and dizzyingly funny journey, Peyton runs once again toward love. This time, hopefully, her heart can guide her where her mind cannot.