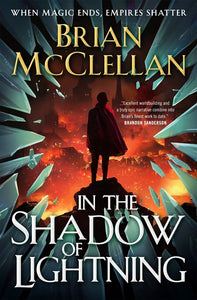 From Brian McClellan, author of
The Powder Mage
trilogy, comes the first novel in the Glass Immortals series,
In the Shadow of Lightning
, an epic fantasy where magic is a finite resource—and it's running out.
Demir Grappo is an outcast—he fled a life of wealth and power, abandoning his responsibilities as a general, a governor, and a son. Now he will live out his days as a grifter, rootless, and alone. But when his mother is brutally murdered, Demir must return from exile to claim his seat at the head of the family and uncover the truth that got her killed: the very power that keeps civilization turning, godglass, is running out.

Now, Demir must find allies, old friends and rivals alike, confront the powerful guild-families who are only interested in making the most of the scraps left at the table and uncover the invisible hand that threatens the Empire. A war is coming, a war unlike any other. And Demir and his ragtag group of outcasts are the only thing that stands in the way of the end of life as the world knows it.