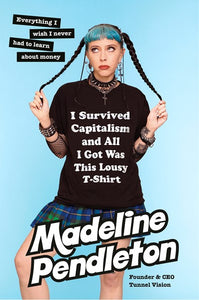 PREORDER On Sale Date: January 16, 2024
A big-hearted, no-bullshit memoir from the TikTok superstar about her journey from living paycheck to paycheck to creating a multi-million-dollar business that offers a compassionate alternative to capitalism • Plus no-nonsense life and money advice, from negotiating pay and building credit to putting home ownership within reach

Like so many Americans, Madeline used to struggle to make ends meet. Raised by a punk dad and a goth mom in Fresno, California, she spent her teens intermittently homeless, relying on the kindness and spare couches of the local punk community to get by. By her twenties, she was drowning in student loans and credit card debt, working long hours and sick of her bosses treating her as disposable. Then her boyfriend, struggling with financial stress, died by suicide. Capitalism was literally killing her loved ones—she knew there must be a better way.