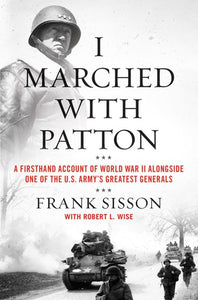 Published to commemorate the seventy-fifth anniversary of General George Patton's death, a gripping firsthand account of World War II written by a soldier with the American Third Army who served under the legendary warrior and participated in many of the most consequential events of the conflict--including the Battle of the Bulge and the liberation of Dachau.

Following in the footsteps of the bestsellers All the Gallant Men, Every Man a Hero, Don't Give Up, Don't Give In, and Never Call Me a Hero, I Marched with Patton is a remarkable eyewitness account that offers priceless insights into a foot soldier's life on the front lines during World War II under the command one of the legendary figures in American military history.
Now a spry ninety-four years old, Frank Sisson looks back at his life and his service in the Third Army. Born in rural Oklahoma, Frank grew up fatherless during the Great Depression. In 1944, at age eighteen, he enlisted and was deployed to France where he marched with Patton, taking part in many of the key Allied movements of the war. Frank fought in the Battle of the Bulge, nearly died crossing the Rhine with Patton, and was among the first American soldiers who liberated the notorious Dachau concentration camp.
After the war, Frank continued to serve in the army as a military police inspector in Berlin. When he finally returned home, he attended college and built a career in business.
Frank Sisson's remarkable reminiscences provide a fresh, unique look at Patton's leadership, the final year of World War II and its direct aftermath, and the experience of combat on the front lines.
I Marched with Patton includes 25 black-and-white photographs.