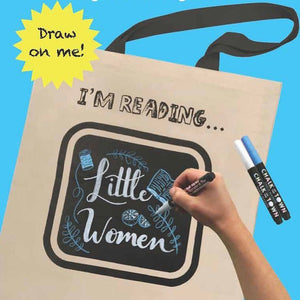 I'M READING Chalkboard Tote Kit
"I'M READING..." Tote Bag Kit is perfect for the avid reader, book worm or teacher as they can both carry AND share the book they are reading.  
Use the included water-based chalk markers to write a title or topic on the tote or illustrate highlights from the book. Once dry, the chalkmarker ink will not smudge. A decorated tote bag will engage others to talk about the book or topic illustrated on the bag.
Parents and caregivers can reinforce and discuss books, while decorating the tote bag together.
 
Start a new book? No problem.  Simply wipe the special surface clean with water and start over again.
I'M READING Totes use the same patent-pending chalkboard surface as Chalk of the Town T-shirts. The totes are also compatible with chalk markers and stencils used with Chalk of the Town T-shirts and patches. The tote is constructed of cotton canvas with contrasting polypropylene handles. Spot clean canvas with a damp cloth.
Tote kit includes:
​12 oz. c​otton canvas tote 

2 chalk markers (1 white and 1 blue)
Size: 14"W x 15"H x 3", 22" handles