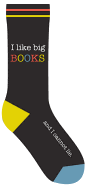 Oh, my God, Becky, look at her book. It is so big . . .
Do you like big books? Make reading time extra-cozy in a pair of bookish socks!
Gibbs Smith socks are made of a 70% cotton, 28% polyester, 2% elastic blend.
One-size-fits-most: Women 7.5-12; Men 6-11.
Do less laundry--read more books. . . . Collect all the Gibbs Smith LoveLit socks!
Dangerous Women Read Socks (ISBN: 978-1-4236-5296-0)
Book Nerd Socks (ISBN: 978-1-4236-5295-3)
I'm Reading Right Meow Socks (ISBN: 978-1-4236-5297-7)
Books Are My Jam Socks (ISBN: 978-1-4236-5298-4)
I'd Rather Be at Book Club Socks (ISBN: 978-1-4236-5299-1)
Talk Wordy to Me Socks (ISBN: 978-1-4236-5294-6)
Read Outside Socks (ISBN: 978-1-4236-5301-1)
Bookin' Socks (ISBN: 978-1-4236-5302-8)
Curled Up with a Good Book Socks (ISBN: 978-1-4236-5300-4)