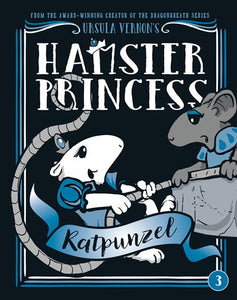 Rapunzel gets a rodent twist in book three of the critically acclaimed and uproariously funny series that's perfect for fans of

 

Princess in Black

 

and

 

Babymouse

 


Princess Harriet Hamsterbone does not like sitting around at home. How's a princess supposed to have any fun when her parents are constantly reminding her to be careful and act princessly? So when her pal Prince Wilbur needs help finding a stolen hydra egg, Harriet happily takes up the quest. The thief's trail leads them to a wicked witch and a tall tower, occupied by a rat whose 

tail

 has more to it than meets the eye!

 


The third book in the award-winning comic hybrid Hamster Princess series will make you look at rodents, royalty, and fairy tales in a whole new light.