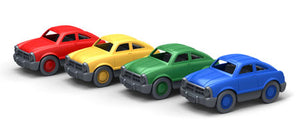 Green Toys Mini Cars
City streets, busy highways, country roads, the Green Toys Mini Cars are sure to stop traffic wherever little imaginations venture. These planet-pleasing automobiles are made in the USA from 100% recycled plastic milk jugs, with no BPA, phthalates, or PVC.
Made safe in the USA with 100% recycled goodness
These mini cars are not your typical toy cars. We transformed recycled milk jugs into these imaginative playthings! Manufactured and assembled in the USA, they are made from 100% post-consumer recycled plastic milk jugs (HDPE #2 plastic) that save energy and reduce greenhouse gas emissions. With no external coatings, paints, or dyes, this super-safe, durable toy is good for the earth and safe and fun for little ones. It's also packaged in recycled and recyclable materials with no plastic films or twist ties, and printed with soy ink.
Classic toys made with 100% play
Each pint-sized fastback features a super-eco design with no metal axles or external coatings, making it perfect for indoor or outdoor play. Containing 24 cars, this set is perfect for the classroom, day care, or birthday goodie bags.