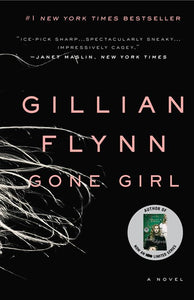 Thriller, Paperback
#1 NEW YORK TIMES BESTSELLER - The "mercilessly entertaining" (Vanity Fair) instant classic "about the nature of identity and the terrible secrets that can survive and thrive in even the most intimate relationships" (Lev Grossman, Time).
NAMED ONE OF THE MOST INFLUENTIAL BOOKS OF THE DECADE BY CNN - NAMED ONE OF TIME'S TEN BEST FICTION BOOKS OF THE DECADE AND ONE OF ENTERTAINMENT WEEKLY'S BEST BOOKS OF THE DECADE
NAMED ONE OF THE TEN BEST BOOKS OF THE YEAR BY Janet Maslin, The New York Times - People - Entertainment Weekly - O: The Oprah Magazine - Slate - Kansas City Star - USA Today - Christian Science Monitor

On a warm summer morning in North Carthage, Missouri, it is Nick and Amy Dunne's fifth wedding anniversary. Presents are being wrapped and reservations are being made when Nick's clever and beautiful wife disappears. Husband-of-the-Year Nick isn't doing himself any favors with cringe-worthy daydreams about the slope and shape of his wife's head, but passages from Amy's diary reveal the alpha-girl perfectionist could have put anyone dangerously on edge . Under mounting pressure from the police and the media--as well as Amy's fiercely doting parents--the town golden boy parades an endless series of lies, deceits, and inappropriate behavior. Nick is oddly evasive, and he's definitely bitter--but is he really a killer?
NAMED ONE OF THE BEST BOOKS OF THE YEAR BY San Francisco Chronicle - St. Louis Post Dispatch - Chicago Tribune - HuffPost - Newsday
"Absorbing . . . In masterly fashion, Flynn depicts the unraveling of a marriage--and of a recession-hit Midwest--by interweaving the wife's diary entries with the husband's first-person account." --New Yorker
"Ms. Flynn writes dark suspense novels that anatomize violence without splashing barrels of blood around the pages . . . Ms. Flynn has much more up her sleeve than a simple missing-person case. As Nick and Amy alternately tell their stories, marriage has never looked so menacing, narrators so unreliable." --The Wall Street Journal
"The story unfolds in precise and riveting prose . . . even while you know you're being manipulated, searching for the missing pieces is half the thrill of this wickedly absorbing tale." --O: The Oprah Magazine