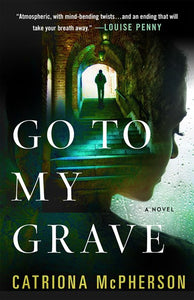 Thriller, Hardcover
From Catriona McPherson, the Agatha-Award winning author of Quiet Neighbors, comes a clever, spine-tingling standalone Gothic thriller.
"Go to My Grave is both a classic 'country house mystery' and a thriller. Atmospheric, with mind-bending twists, a narrator who may or may not be reliable, and an ending that will take your breath away and leave you astonished." --Louise Penny

Donna Weaver has put everything she has into restoring The Breakers, an old bed and breakfast on a remote stretch of beach in Galloway. Now it sits waiting--freshly painted, richly furnished, filled with flowers--for the first guests to arrive.
But Donna's guests, a contentious group of estranged cousins, soon realize that they've been here before, years ago. Decades have passed, but that night still haunts them: a sixteenth birthday party that started with peach schnapps and ended with a girl walking into the sea.
Each of them had made a vow of silence: "lock it in a box, stitch my lips, and go to my grave."
But now someone has broken the pact. Amid the home-baked scones and lavish rooms, someone is playing games, locking boxes, stitching lips. And before the weekend is over, at least one of them will go to their grave.