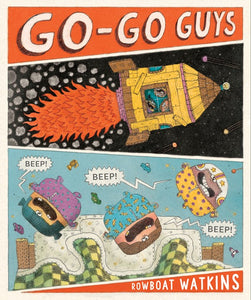 ★ "[Little ones] will have a blast go-go-going with these irrepressible tots."—Booklist, starred review 
★ "Magnificent."—Publishers Weekly,

 

starred review Beloved author Rowboat Watkins's vivid comic-style take on a universal dilemma―bedtime!

New from the beeping brain of Rowboat Watkins, award-winning author of much-loved children's picture books including Rude Cakes, Mabel: A Mermaid Fable, and Big Bunny. This comic-style adventure follows the Go-Go Guys from beep-beep-bed to the Moon and beep-beep-back again.

So . . . what do Go-Go Guys do best?

Well . . . GO-GO-GO! They never rest.

Because their brains go

BEEP!

BEEP!

BEEP!