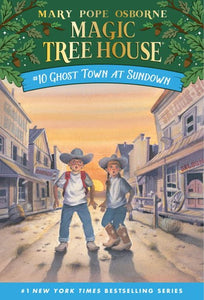 Early Chapter, Series (Magic Tree House #10), Paperback
The #1 bestselling chapter book series of all time celebrates 25 years with new covers and a new, easy-to-use numbering system!
Is this town HAUNTED? Jack and Annie wonder when the Magic Tree House whisks them to the Wild West. But before they can say "Boo!" they rush headlong into an adventure filled with horse thieves, a lost colt, rattlesnakes, and a cowboy named Slim. Will Jack and Annie have time to solve the next Tree House Riddle? The answer may depend on a ghost!
Did you know that there's a Magic Tree House book for every kid?
Magic Tree House: Adventures with Jack and Annie, perfect for readers who are just beginning chapter books