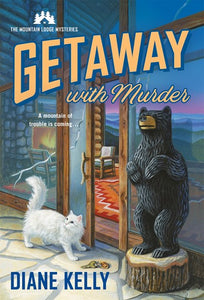 Getaway With Murder is the first in a cozy series from Diane Kelly set in a lodge in the Blue Ridge Mountains, where secrets hide behind every hill.
As if hitting the half-century mark wasn't enough, Misty Murphy celebrated her landmark birthday by amicably ending her marriage and investing her settlement in a dilapidated mountain lodge at the top of the Blue Ridge Mountains. With the old inn teetering on both a bluff and bankruptcy, she must have lost her ever-loving mind.
Luckily, handyman Rocky Crowder has a knack for rehabbing virtual ruins and for doing it on a dime, and to Misty's delight, the lodge is fully booked on opening night, every room filled with flexible folks who'd slipped into spandex and ascended the peak for a yoga retreat with plans to namastay for a full week. Misty and her guests are feeling zen--at least until the yoga instructor is found dead.
With a killer on the loose and the lodge's reputation hanging in the balance, Misty must put her detective-skills to the test. Only one thing is as clear as a sunny mountain morning--she must solve the crime before the lodge ends up, once again, on the brink.