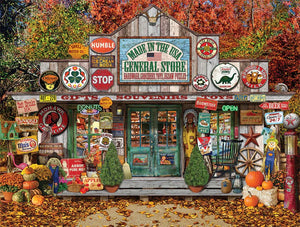 General Store. Let's go exploring on this crisp autumn day at a classic old country emporium, chockablock full of everything you could possibly need. Just like White Mountain Puzzles, their goods are proudly made in the USA. Vintage signage advertises H.P. Hood & Sons Milk, Donuts, Apple Pie, Ma's Old Fashion Root Beer, Budweiser, Burbanks Ice Cream, plus all sorts of gas and oil including Sinclair, Star, Shell, Texaco and Magnolia. 
Artist Lewis T. Johnson
. 1,000 piece puzzle. Finished size 24" x 30".