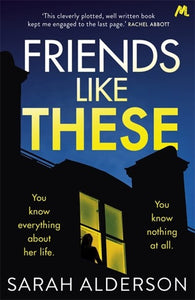 As addictive as THE SILENT PATIENT, as gripping as THE GIRL BEFORE.
One wrong click can ruin your life...
Lizzie hasn't thought about her colleague Becca in years - not since the accident.
Then Becca's ex-boyfriend turns up on Tinder, and Lizzie's curiosity is sparked.
It looks like Becca hasn't changed. She's still all over social media: #perfectlife, #perfectjob, #blessed. Lizzie can't resist a dig. But she sends her mean comment to Becca by mistake...
She's about to find out you can't always believe what you see online.
And that with friends like Becca, you don't need enemies...
A gripping read with a twist you won't see coming - the perfect thriller for the digital age.
Readers love FRIENDS LIKE THESE
'FABULOUS. Best psychological thriller I've read.'
'Absolutely loved every second of it and didn't want it to end.'
'Can't wait for her next book. Just blown away.'
'This was the best book I have read all year. Absolutely amazing. It kept me up ALL night because I just couldn't put it down.'
'More than a 5 star, completely original, scary, tense, thrilling, and chilling. Loved, loved, loved, loved.'