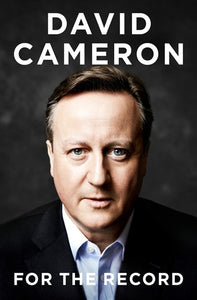 David Cameron was elected Conservative leader in 2005, promising to modernize the party following its three successive electoral defeats. He became Prime Minister in 2010, forming Britain's first coalition government in 70 years, at a moment of economic crisis, and went on to win the first outright Conservative majority for 23 years at the 2015 general election.
In For the Record, he will explain how the governments he led transformed the UK economy while implementing a modern, compassionate agenda that included reforming education and welfare, legalizing gay marriage, honoring the UK's commitment to overseas aid and spearheading environmental policies. He will shed light on the seminal world events of his premiership--the Arab Spring; the rise of ISIS; the invasion of Ukraine; the conflicts in Libya, Iraq and Syria--as well as events at home, from the Olympic Games in 2012 to the Scottish referendum. He will provide, for the first time, his perspective on the EU referendum and his views on the future of Britain's place in the world following Brexit.
Revealing the battles and achievements of his life and career in intimate and frank detail, For the Record will be an important assessment of the significant political events of the last decade, the nature of power and the role of leadership at a time of profound global change.