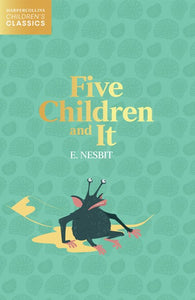 This beautiful HarperCollins Children's Classics edition of E. Nesbit's Five Children and It is the perfect addition to any bookshelf.
When Cyril, Anthea, Robert, Jane and their baby brother move to the countryside, they encounter 'It' - a grumpy, strange-looking Sand-fairy known as a Psammead.
The Psammead can grant the children one wish every day - but whether they request to be beautiful or rich, to fly or live in a castle, it seems every wish is destined to lead the five children into a great deal of trouble . . .
This classic fantasy adventure from the author of The Railway Children is full of magic and mishaps, bringing to life the saying 'be careful what you wish for'.
Complete your library with HarperCollins Children's Classics.