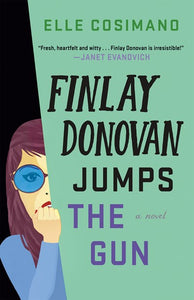 From
USA Today
bestseller and Edgar-Award nominee Elle Cosimano, comes
Finlay Donovan Jumps the Gun
—the hilarious and heart-pounding next installment in the beloved Finlay Donovan series.
Finlay Donovan has been in messes before—after all, she's an author and single mom who's a pro at getting out bloodstains for rather unexpected reasons—but none quite like this. After she and her nanny/partner-in-crime Vero accidentally destroyed a luxury car that they may have "borrowed" in the process of saving the life of Finlay's ex-husband, the Russian mob did her a favor and bought the car for her. But now Finlay owes them.

Though now behind bars and awaiting trial, mob boss Felicks is still runinng the show, and he has a task for Finlay: find and identify a contract killer before the cops do. Problem is, the killer might be an officer themselves.

Luckily, hot cop Nick has just been tasked with starting up a citizen's police academy, and combined pressure from him and Finlay's agent (that next book is always right around the corner) is enough to convince her and Vero to get involved. Through ride-alongs, firearm training courses and forensic classes, Finlay and Vero use their time in police academy to sleuth out the real contract killer to free themselves from the mob's clutches— all the while dodging spies, confronting Vero's past, and juggling the daily trials of parenting.