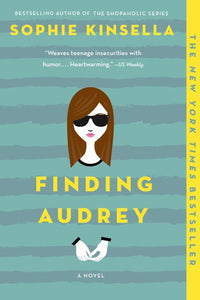 YA Fiction, Paperback
A ZOELLA Book Club Pick!

From the #1 New York Times bestselling author of the Shopaholic series comes a terrific blend of comedy, romance, and psychological recovery in a contemporary YA novel sure to inspire and entertain.

Audrey wears dark glasses all the time, even in the house. She almost never goes out, doesn't talk to new people, and finds making eye contact to be nearly impossible.
But then one day she meets Linus. Linus is her brother's friend and a sensitive spirit with whom she can talk through her fears. He makes her laugh and doesn't leave her feeling like she's being judged. As their friendship deepens, Audrey's recovery gains momentum, and she and Linus begin to develop feelings for each other. But how can they have a future together when Audrey hasn't dealt with her past? And how could anyone ever love her once they've seen her at her worst?
" An outstanding tragicomedy that gently explores mental illness, the lasting effects of bullying, and the power of friends and loving family to help in the healing."-- Kirkus Reviews, Starred
" Kinsella's knack for humor and sensitivity shine." Publishers Weekly