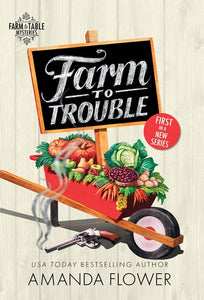 When a murder disrupts her plans to save the family farm, Shiloh soon finds herself spending more time staking out suspects than staking her tomatoes!
Shiloh Bellamy cashed in her big-city job and 401K to return home to Michigan and save the family farm. Her father can no longer care for the land alone, but that doesn't mean he's ready to cash in his (cow) chips—he hates Shiloh's idea to create a sustainable organic farm. Still, she's determined to make her plans work—and she won't need any help. Not from anyone, especially the handsome single dad from the next farm over. But when Shiloh's organic investor turns up dead at the farmer's market, more than just her dreams are at stake.
Now the number one suspect in a murder investigation, Shiloh has to solve the crime to save herself and her farm. In this fast-paced new mystery, Farm to Trouble, readers will root for this quirky sleuth and her little farm—goats and all!