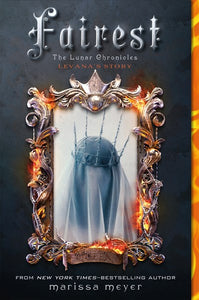 YA Fiction, Series (Lunar Chronicals), Paperback
A standalone prequel to the #1 New York Times- and USA Today-Bestselling Lunar Chronicles series by Marissa Meyer! Find out what made the evil space queen from the beloved series so wicked.

"An interesting mash up of fairy tales and science fiction . . . a cross between Cinderella, Terminator, and Star Wars." --Entertainment Weekly on the Lunar Chronicles

"Prince Charming among the cyborgs." --The Wall Street Journal on the Lunar Chronicles

Mirror, mirror, on the wall.
Who is the Fairest of them all?
Pure evil has a name, hides behind a mask of deceit, and uses her "glamour" to gain power. But who is Queen Levana? Long before she crossed paths with Cinder, Scarlet, and Cress in The Lunar Chronicles, Levana lived a very different story--a story that has never been told . . . until now.

New York Times-bestselling author Marissa Meyer reveals the story behind her fascinating villain in Fairest, an unforgettable tale about love and war, deceit and death. This extraordinary book includes a special full-color image of Levana's castle and an excerpt from Winter, the exciting conclusion to The Lunar Chronicles.
Praise for the Lunar Chronicles
#1 New York Times-Bestselling Series
USA Today Bestseller
Publishers Weekly Bestseller
"Terrific." --Los Angeles Times
"Marissa Meyer rocks the fractured fairytalegenre." --The Seattle Times