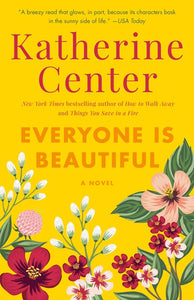 A hugely entertaining, poignant, and charming novel about what happens after happily ever after—from the New York Timesbestselling author of How to Walk Away and Things You Save in a Fire
 
"Everyone Is Beautiful is for every woman who has ever struggled to find, hold on to, and nurture authenticity in the midst of that wild, messy, wonderful thing called motherhood."—Brené Brown

Lanie Coates's life is spinning out of control. She's piled everything she owns into a U-Haul and driven with her husband, Peter, and their three little boys from their cozy Texas home to a multiflight walkup in Boston. She's left behind family and friends—all so her husband can realize his dream of becoming a professional musician. But somewhere in the eye of her personal hurricane, it hits Lanie that she once had dreams too . . . if only she could remember what they were.

These days, Lanie always seems to prioritize herself last—and when another mom accidentally assumes she's pregnant, it's the final straw. Fifteen years, three babies, and more pounds than she's willing to count since the day she said "I do," Lanie longs desperately to feel like her old self again. It's time to rise up, fish her moxie out of the diaper pail, and find the woman she was before motherhood consumed her entire existence.

Lanie sets change in motion—joining a gym, signing up for photography classes, and finding a new best friend. But she also creates waves that come to threaten her whole life. Balancing motherhood and me-time, marriage and independence, and supporting loved ones while also realizing her own dreams, Lanie must figure out once and for all how to find herself without losing everything else in the process.