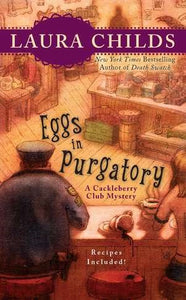 Cozy Mystery, Series (Cackleberry Club Mysteries #1), Mass Market Paperback
INTRODUCING THE CACKLEBERRY CLUB MYSTERY SERIES!
The New York Times bestselling author of the Scrapbooking Mysteries and the Tea Shop Mysteries cooks up a delicious series full of friendship, murder, and one spectacular breakfast after another....

Suzanne, Toni, and Petra lost their husbands but found independence--and in each other, a life raft of support, inspiration, fresh baked goods, and their own business. But when the Cackleberry Club cafe opened its doors in the town of Kindred, who'd have guessed that the cozy oasis would become the scene of a crime?
Suzanne's lawyer is found in his car out back of the Cackleberry with egg on his face and blood on the dash. Suzanne's taking the crime personally. The murder not only reveals a scandal in her late husband's past, but a stranger fleeing a messianic sect is begging Suzanne for help. Now, discovering a link between a dead man with secrets and a runaway cultist may be putting Suzanne's own life on the line.