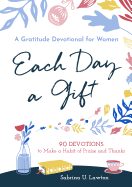 Growing gratitude, deepening faith--90 daily devotionals for women.
When life moves fast, it's easy to stop seeing the gifts each day brings. From family and friends to aspirations and more, this devotional for women will open your eyes to the blessings before you and unlock the grateful heart within.
Each Day a Gift offers daily guidance to deepen your faith and cultivate a life filled with gratitude in 90 days. Connecting the scripture to everyday events, each devotional helps you to realize all you have and all you stand to gain in God's grace.
Inside Each Day a Gift, you'll find:
90 devotionals for women--Cultivate gratitude each and every day with quick and practical devotionals to help guide you.
Scripture for real life--See how the scripture sheds light on your home, work, and social life with passages that speak to modern life.
Reflect and pray--Write down your thoughts with dedicated space at the end of each devotional.
Celebrate each moment and milestone of your life when you practice gratitude through God's guiding words. This devotional for women shows you how.