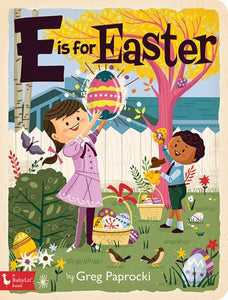 Introduce your brilliant baby to the ABCs with this colorfully illustrated primer about the joys of Easter.
In the latest alphabet primer from artist Greg Paprocki, Easter and the rites of spring are celebrated with Paprocki's wonderful colorful and vintage-looking illustrations. Your toddlers can enjoy illustrations of such things as the Easter Bunny, baskets overflowing with candy, children decorating Easter eggs, an Easter egg hunt, and beautiful springtime flowers.
Part of the BabyLit Alphabet Series.