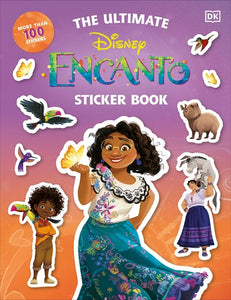 An entertaining Disney Encanto movie tie-in book for children, featuring more than 100 stickers.
Meet a magical family living in a magical home in Disney's new movie 
Encanto
 and in this fun sticker book.
Travel to Colombia with this ultimate sticker book, featuring beautiful images and artwork from Disney's new movie 
Encanto
. Discover all the key characters, including Mirabel Madrigal and her family, and encounter the magic of the Encanto. 
Disney Encanto Ultimate Sticker Book
 will help kids to relive the wonder of Disney's newest movie. Fun stickering activities will keep kids aged 5-7 entertained for hours and, with more than 100 stickers, there are plenty of extra stickers, too.
©Disney