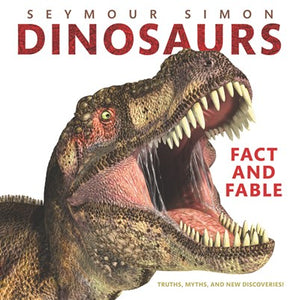 "If you love dinosaurs, you'll love this book.-- Steve Brusatte, paleontologist at the University of Edinburgh and New York Times bestselling author of The Rise and Fall of the Dinosaurs
Join award-winning science writer Seymour Simon as he separates fact from fiction in a brilliant exploration of some of the most fascinating creatures to ever roam the planet: dinosaurs! This nonfiction picture book is an excellent choice for both shared and independent reading during homeschooling and classroom learning, in particular for children ages 6 to 8.
Scientists have dug up and uncovered many facts about dinosaurs--and in the process, they have come across many myths. This picture book digs deep into the Age of Dinosaurs, covering topics such as fossilization, plate tectonics, dinosaur diets, paleontology, extinction theories, dinosaur relatives, and more!
Get ready to learn what we know about dinosaurs and what we still don't know, and about the amazing new discoveries being made every single day.
Perfect for young scholars' school reports, Dinosaurs: Fact and Fable features clear text, vibrantly colored pages, engaging sidebars, and stunning full-color illustrations and photographs. This book includes an author's note, a glossary, a timeline, and an index and supports the Common Core State Standards.
Check out these other Seymour Simon books about animals:
Big Cats
Butterflies
Cats
Crocodiles & Alligators
Dogs
Dolphins
Elephants

Frogs
Gorillas
Horses
Insects
Penguins
Sea Creatures
Snakes
Spiders
Whales
Wild Babies
Wolves