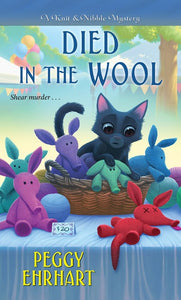 Cozy Mystery, (Knit & Nibble Mystery #2), Mass Market Paperback
When a murder shocks picturesque Arborville, New Jersey, Pamela Paterson and her Knit and Nibble knitting club suddenly find themselves at the center of the investigation--as suspects . . .
Pamela is ready to kick back and relax after a busy day selling stuffed aardvarks to benefit Arborville High School's sports program at the annual town festival. But just as she's packing up, she makes a terrible discovery--someone's stashed a body under the Knit and Nibble's table. The victim is Randall Jefferson, a decidedly unpopular history teacher after his recent op-ed criticizing the school's sports program. But the primary suspect has an alibi, and the only clue is a stuffed aardvark found on the victim's chest . . . Now the Knit and Nibblers must unravel the case quickly--before a crafty killer repeats a deadly pattern.
Knitting tips and delicious recipe included!