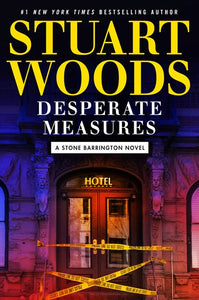 Thriller, Series (Stone Barrington Novel #47), Hardcover
**SALE BOOKS MAY HAVE A SALE STICKER ON THE SPINE OR COVER**
Stone Barrington faces down danger on New York's mean streets in the latest thriller from perennial fan favorite Stuart Woods.
Upon returning to the states from a European jaunt, Stone Barrington makes the acquaintance of a stunning woman who seems like she could be an ideal candidate to meet some of his professional--and personal--needs. Before long, though, Stone is put to the task of protecting his new hire when New York City is rocked by a series of disturbing crimes, and it looks as if she might be the next target.
In the city that never sleeps there's always a plot being hatched, and the only recourse is constant vigilance and a bit of luck. But if those defensive systems fail, Stone will have to go head-to-head against some of the most dastardly scum he's ever faced . . .