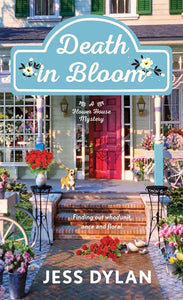 The first in a sweet and colorful cozy mystery series from Jess Dylan, Death in Bloom introduces flower shop owner Sierra Ravenswood.
At the Flower House, every rose has its thorn . . .
Sierra Ravenswood is the new part-time employee of the Flower House, a flower shop in Aerieville, Tennessee. It's true she didn't expect to be back in her hometown at twenty-eight-years-old, but after her dream of making it as a singer in Nashville crashed and burned, she's just grateful to have found a soft place to land.
Because, after all, Sierra firmly believes in being optimistic and positive about life, so she's sure she won't have to work at the Flower House forever. But things take a decidedly negative turn when a customer drops dead in the middle of her new bouquet-arranging workshop at the store. When it's discovered he was poisoned by a snack at the event, everyone at the workshop, including Sierra, is on the suspect list. To make matters worse, her boss has gone AWOL and left the store to her for the cost of one dollar, leaving Sierra in charge of both his store and his high-energy Corgi puppy, Gus.
The town is on edge, and Sierra knows that murder is something that an upbeat attitude and a bouquet of sweet-smelling roses can't fix. She's determined to figure out whodunit, before anyone else in town meets an untimely reason for needing funeral flowers.