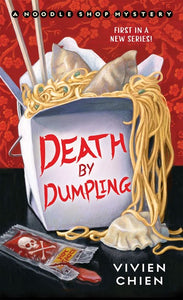 Welcome to the Ho-Lee Noodle House, where the Chinese food is to die for. . .
The last place Lana Lee thought she would ever end up is back at her family's restaurant. But after a brutal break-up and a dramatic workplace walk-out, she figures that helping wait tables is her best option for putting her life back together. Even if that means having to put up with her mother, who is dead-set on finding her a husband.
Lana's love life soon becomes yesterday's news once the restaurant's property manager, Mr. Feng, turns up dead--after a delivery of shrimp dumplings from Ho-Lee. But how could this have happened when everyone on staff knew about Mr. Feng's severe, life-threatening shellfish allergy? Now, with the whole restaurant under suspicion for murder and the local media in a feeding frenzy--to say nothing of the gorgeous police detective who keeps turning up for take-out--it's up to Lana to find out who is behind Feng's killer order. . . before her own number is up.
"Vivien Chien serves up a delicious mystery with a side order of soy sauce and sass. A tasty start to a new mystery series!" --Kylie Logan, bestselling author of 
Gone with the Twins
Deathby
Dumpling
 is a fun and sassy debut with unique flavor, local flair, and heart." --Amanda Flower, Agatha Award--winning author of 
Lethal Licorice