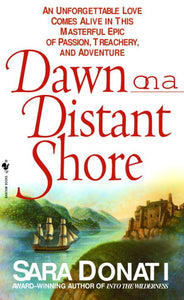 Fiction, Series (Wilderness #2), Mass Market Paperback
In an icy, untamed world of pristine beauty, a husband and wife are torn apart by fate but reunited forever by a love that can't be broken....
An unforgettable love comes alive in this masterful epic of passion, treachery, and adventure....
Award-winning author Sara Donati's debut novel, Into the Wilderness, was hailed as "one of those rare stories that let you breathe the air of another time" (Diana Gabaldon). Now, in an eloquent blend of fact and fiction, Donati re-creates her beloved characters from Into the Wilderness in an enthralling new tale of romance and adventure.
Elizabeth and Nathaniel Bonner have settled into their life together at the edge of the New-York wilderness in the winter of 1794. But soon after Elizabeth gives birth to healthy twins, Nathaniel learns that his father has been arrested in British Canada. Forced to leave Hidden Wolf Mountain to help his father in Montreal, Nathaniel himself is imprisoned and in danger of being hanged as a spy.
In a desperate bid to save her husband, Elizabeth bundles her infants and sets out through the snowy wilderness and across treacherous waterways on the dangerous trek to Canada. But she soon discovers that freeing her husband will take every ounce of her courage and inventiveness -- and will threaten her with the loss of what she loves most: her children.
Torn apart, the Bonners must embark on yet another perilous voyage, this time all the way across the ocean to the heart of Scotland, where a destiny they could never have imagined awaits them....