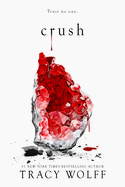 Fans of vampires and intricate fantasy lore will be dying for the highly anticipated second installment in the romantic, pulse-pounding Crave series.
It's good to be back with my friends at Katmere Academy after all I've been through…and even better to be back with Jaxon. But from the minute I return, everything feels off—especially me. Fragments of memories I have no recollection of making haunt me, along with a voice I can't get out of my head. A voice that describes terrible and terrifying things that I could never think of on my own. A voice that seems determined to drive a wedge between Jaxon and me forever.

Jaxon swears he won't lose me to the darkness, but when the Circle comes to Katmere, everything gets a million times more complicated. Because no matter what they say, I know they want more than to just check out how things are going. They want to take control of the school…and everyone in it.

Suddenly, I'm in the fight of my life. For my sanity. For Jaxon. And for the world I've only just begun to be a part of. I'm all in, even if saving the people I love means I risk losing myself forever.