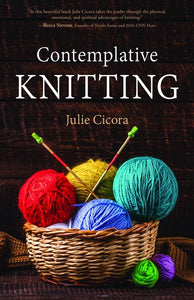 Learn how the meditative practice of knitting can evolve into a spiritual discipline.
One third (53 million) of American women know how to knit, and knitting is becoming increasingly popular with men as well. Many of these knitters belong to social knitting circles, charity knitting groups, or knit with others in churches, cafes--and even in bars!
This book shows how knitting creates connections and communities, and ties the repetition of knitting to the consistent recitation of prayer. It also compares the act of knitting to the spiritual journey, from starting something new to how we handle mistakes. Many people would like to incorporate a spiritual practice into their frenetic lives only to become discouraged and give up when they try. Those who knit are able to experience its calming effects and dedicate time to their craft each day.