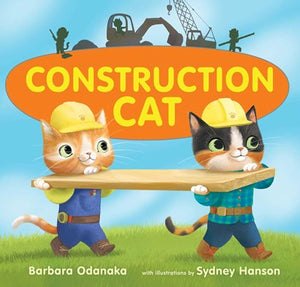 Picture Books, Hardcover
Cats in hard hats make work seem like play in this cheery, rhyming picture book about building something and having a loving family to share your accomplishments with.
Construction cat wakes up at dawn, grabs her boots and tugs them on...
It's time to build! Tail high, Construction Cat kisses her family goodbye and goes to work with the other cats on a construction site. They lug lumber and pound nails, they saw, sand, and sweep the dust, all to build a truly paw-some park that they can't wait to share with friends and family!
Sydney Hanson's lively and lovable cats combined with Barbara Odanaka's rhythmic story create a universal story that is a joy to read again and again.