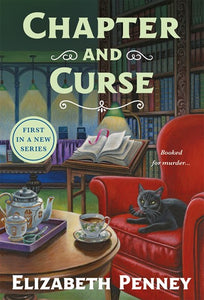 In Elizabeth Penney's Chapter and Curse, Molly Kimball is used to cracking open books . . . but when a poetry reading ends in murder she must use her skills to crack the case.

With its bucolic British setting, engaging heroine, and unsolved murder dating back decades, Elizabeth Penney has penned the perfect cozy.-Ellen Byron, USA Today Bestselling Author
Librarian Molly Kimball and her mother, Nina, need a change. So when a letter arrives from Nina's Aunt Violet in Cambridge, England requesting their help running the family bookshop, they jump at the chance.
Thomas Marlowe--Manuscripts and Folios, is one of the oldest bookshops in Cambridge, and--unfortunately--customers can tell. When Molly and Nina arrive, spring has come to Cambridge and the famed Cambridge Literary Festival is underway. Determined to bring much-needed revenue to the bookstore, Molly invites Aunt Violet's college classmate and famed poet Persephone Brightwell to hold a poetry reading in the shop. But the event ends in disaster when a guest is found dead--with Molly's great-aunt's knitting needle used as the murder weapon. While trying to clear Violet and keep the struggling shop afloat, Molly sifts through secrets past and present, untangling a web of blackmail, deceit, and murder.