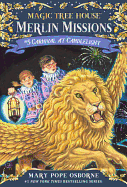 Early Chapter, Series (Merlin Missions #5) (Magic Tree House), Paperback
The #1 bestselling chapter book series of all time celebrates 25 years with new covers and a new, easy-to-use numbering system!
Jack and Annie head back in time to Venice, Italy in the 1700s. With the help of a research book, a book of magic rhymes, and a set of mysterious instructions from Merlin, the heroes will save the beautiful city from a flood!
Formerly numbered as Magic Tree House #33, the title of this book is now Magic Tree House Merlin Mission #5: Carnival at Candlelight.
Did you know that there's a Magic Tree House book for every kid?
Magic Tree House: Adventures with Jack and Annie, perfect for readers who are just beginning chapter books
Merlin Missions: More challenging adventures for the experienced reader
Super Edition: A longer and more dangerous adventure
Fact Trackers: Nonfiction companions to your favorite Magic Tree House adventures