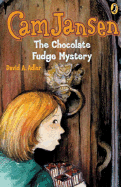 Early Chapter, Series ( Cam Jansen #14 ), Paperback
No mystery is too great for super-sleuth Cam Jansen and her amazing photographic memory!
Mysteries follow super-sleuth Cam Jansen everywhere she goes...even while selling candy door-to-door. Cam and Eric are knocking on doors to sell candy for their school fund-raiser when Cam notices that there is a full trash can outside of a house that is supposed to be empty. Could someone be hiding inside? Cam is going to find out!
The Cam Jansen books are perfect for young readers who are making the transition to chapter books, and Cam is a spunky young heroine whom readers have loved for over two decades.