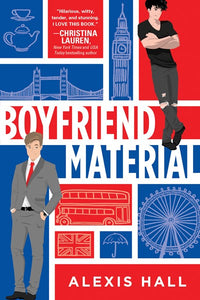 In this hilarious LGBTQIA+ romcom, a famous young man whose reputations needs damage control soon finds his fake relationship turning to real romance.
LGBTQIA+ ROMANTIC COMEDY
When tangentially—and reluctantly—famous Luc O'Donnell is forced back into the spotlight in the worst possible way, he has to think fast if he wants to save his floundering reputation. Enter Oliver Blackwood. Stunningly handsome and effortlessly put together, Oliver is successful, an ethical vegetarian, and has never appeared in a scandal mag even once. In other words, he's perfect boyfriend material and exactly what Luc needs to appear respectable again. But when their fake relationship starts to feel like real romance, Luc and Oliver might have to consider whether they're willing to fight for the truth of their new relationship...scandal, and consequences, be damned.