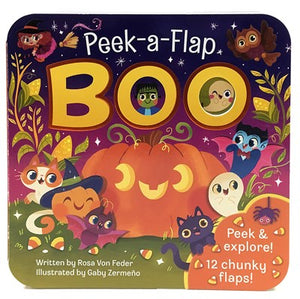 Peek-a-BOO! Look around the pumpkin patch for little creatures hiding among the pumpkins, choose your favorite costume in the parade, take a haunted hayride, and more. Talk about Halloween traditions, like pumpkin carving, trick-or-treating, and costume parties. Learn interesting facts, such as where the most pumpkins in the U.S. are grown, which country believes black cats are good luck, and what candy corn used to be called. This festive Halloween book for kids is sure to engage your baby or toddler with a lift-a-flap activity on each page, revealing tons of peek-a-boo surprises and fun facts. 
Collect the entire series in the Peek-a-Flap Collection from Cottage Door Press and check out our full selection of Halloween books for kids!
Sturdy, thick board pages and durable flaps designed to withstand traditional wear and tear for curious little infants and toddlers.
Lifting the interactive flaps encourages sensory exploration and helps support the development of fine motor skills and hand-eye coordination in developing children.
Packed with new words and peek-a-boo surprises.
Bright, cheerful illustrations and interesting facts in these sensory lift-a-flap books for babies and preschoolers keep them entertained and engaged.
Perfect gift for birthdays, holidays, and curious toddlers! Collect all the books in the Peek-a-Flap series.
A fun

 

candy alternative activity

 

and a great gift for Halloween to get little boys and girls excited for the celebration and add to their Halloween book library collection.