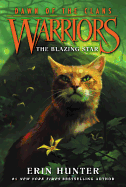 Juvenile Series, (Warriors: Dawn of the Clans #4), Paperback
Discover the origins of the warrior Clans in this thrilling prequel to Erin Hunter's #1 nationally bestselling Warriors series--now beautifully repackaged with striking new cover art!
The fourth book in the Dawn of the Clans series takes readers back to the earliest days of the Clans, when the cats first settled in the forest and began to forge the warrior code.
The first great battle has ended, and each group has agreed to a truce. But merely keeping the peace may not guarantee their survival. When a deadly disease threatens to strike deep into the heart of both camps, the cats must work together to find the only thing that can save them--the mysterious Blazing Star....
Also contains an exclusive bonus scene!