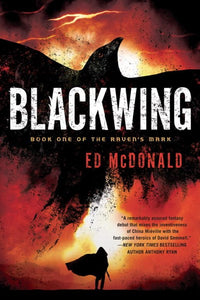 Author: Ed McDonald

"A remarkably assured fantasy debut that mixes of the inventiveness of China Miéville with the fast paced heroics of David Gemmell."--Anthony Ryan, New York Times bestselling author of The Legion of Flame

 

Set on a postapocalyptic frontier,

 

Blackwing

 

is a gritty fantasy debut about a man's desperate battle to survive his own dark destiny...
Hope, reason, humanity: the Misery breaks them all.

 

Under its cracked and wailing sky, the Misery is a vast and blighted expanse, the arcane remnant of a devastating war with the immortals known as the Deep Kings. The war ended nearly a century ago, and the enemy is kept at bay only by the existence of the Engine, a terrible weapon that protects the Misery's border. Across the corrupted no-man's-land teeming with twisted magic and malevolent wraiths, the Deep Kings and their armies bide their time. Watching. Waiting.

 

Bounty hunter Ryhalt Galharrow has breathed Misery dust for twenty bitter years. When he's ordered to locate a masked noblewoman at a frontier outpost, he finds himself caught in the middle of an attack by the Deep Kings, one that signifies they may no longer fear the Engine. Only a formidable show of power from the very woman he is seeking, Lady Ezabeth Tanza, repels the assault.

 

Ezabeth is a shadow from Galharrow's grim past, and together they stumble onto a web of conspiracy that threatens to end the fragile peace the Engine has provided. Galharrow is not ready for the truth about the blood he's spilled or the gods he's supposed to serve...