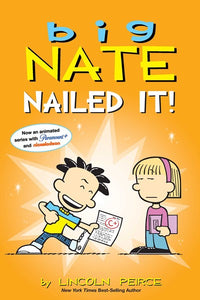 The newest pranks, adventures, and school drama from

 

Big Nate, now an animated series on Paramount+ and Nickelodeon!Big Nate

 is a legend at P.S. 38, where he and friends Francis, Teddy, Dee Dee, Chad, and others manage to make sixth grade interesting with all kinds of pranks, drama, sports, and good times. The all-time leader in detentions, Nate is never far from the spotlight, whether it's for a freak injury on the soccer field, Halloween costume fail, or stirring up a new episode in his long-running rivalry with grade-grubbing Gina or his teacher nemesis, Mrs. Godfrey. This new collection of 

Big Nate

 comics from Lincoln Peirce includes over 170 full-color comics and abundant laughs for the whole family, especially young readers ages 8 to 12.