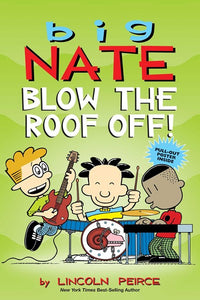 Soon to be an animated series from Nickelodeon!This latest

 

Big Nate

 

installment by bestselling author Lincoln Peirce will take readers on a hilarious, romantic, rock-and-roll adventure!

 


Nate Wright is born to be wild! And when Enslave the Mollusk is invited to play at the P.S. 38 annual open house, he and his bandmates are on the stairway to heaven. While the kids rock, the school year rolls on. Mrs. Godfrey is back in black, Gina thinks she's hot stuff, and Coach John is dazed and confused. The good news: Nate's finally reunited with Trudy, his summer crush. But when he finds out she's a-- 

gulp

--seventh grader, will Nate lose that lovin' feeling? Middle school is a long, strange trip, and this new collection of riotous 

Big Nate

 comics just might BLOW THE ROOF OFF!