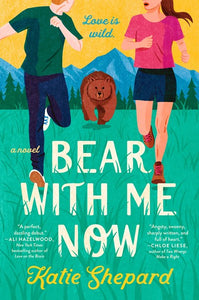 Two people are ready for their lives to get a little wilder in this romantic comedy by debut author Katie Shepard.
After being hospitalized for depression following his mother's death, charitable foundation CEO Teagan van Zijl finds himself at a wilderness therapy retreat in Montana. Lost in the woods, Teagan nearly gets eaten by a bear but is saved by an angel in muddy hiking boots—the program's handywoman, Darcy Albano, that is. After spending the summer with Darcy, Teagan realizes he doesn't want to return to New York without her. He hires Darcy as his sober companion—a position he doesn't actually need filled and for which Darcy is completely unqualified—hoping she can help him figure out how to move forward. But once they get to the city, all Teagan can think of is how to confess the truth. 
Darcy Albano thought she was going to work as a wilderness guide when she was hired on the camp staff, but ended up a handywoman instead—only the latest screwing-over she's endured since her ex stole her car and her parents ruined her credit score. But Teagan van Zijl is the silver lining she didn't expect to appear—clearly going through something but willing to learn about wildlife from her. They form an unlikely bond, and he helps her in turn. The city is not how she envisioned it when she agreed to join him, but with Teagan, anything feels possible.